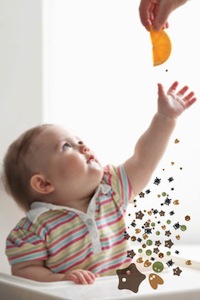 Ecological
cleaning
for your home
A little family history…
Florence is Lucile's mother. Lucile is Eytan's mother.
Eytan just turned 2 years old: just like all his little friends, he is curious and love to experiment: from taking windows for a strawberry ice-cream to half-closed bleach containers dripping a colorless and smelly liquid on the brand new orange tee-shirt… Luckily Lucile arrived just in time and stopped her son from drinking the liquid.
A typical story to illustrate a worrying general context
More than half the intoxications are due to ingestion of cleaning products, including bleach representing 40% of all poisoning. These accidents are often caused by children chewing on a carton or accessing a nearby bucket filled with a floor cleaning product.
Cleaning and maintenance, yes! But how to best respect your home's ecosystem?
Typically, our whole environment is filled with invisible microorganism. They are everywhere, on all surfaces… your skin, your intestines, EVERYWHERE… even in your refrigerator! All these nice little beings live in harmony with us and with our environment. Some are more aggressive than others but as long as they are not outnumbered, we accept their presence.
They are particularly essential to our immune system. The more contact we have with microorganisms, the more our immune system develops and the more resistant we become. A recent study shows that children daily exposed to a barn (of course full of micro-organisms) are much more likely to become immune to diseases than children living in a more clinical environment.
The « Ecological » effect of cleanliness according to ARICA
Arica was born from the above concept: each maintenance agent brings a special compartment bag equipped with 4 ecological household cleaning supplies used for your entire home. Thanks to her effectiveness, punctuality and smile, our agent will soon become an essential part of your household and will convince you of the need to:
Get rid of all your harmful and useless cleaning products in a flash

Reduce inside pollution without toxic intervention

Take charge of your health, that of your family and of your house: you will finally be able to breathe: it is essential!

No more scratchy throat after scrubbing the bathtub

No more headaches, which originate from the presence household cleaning products
So with ecological cleaning, you take good care of yourselves and your home!!